Everyday heroism is the backbone of TDIndustries. Our TDPartners often work in dangerous environments, performing tasks that require hundreds of hours of training. They dutifully serve our customers, building and maintaining some of the world's most complex critical systems. When Hurricane Harvey made landfall last week, it put the entire TDIndustries family to the test.
TDIndustries has a major presence in the Greater Houston area with 370 TDPartners calling our Derrington Road location their home office. And while our office fared well (being located on the northern edge of Houston), about 10% of our workforce were left with significant damage to their homes and vehicles.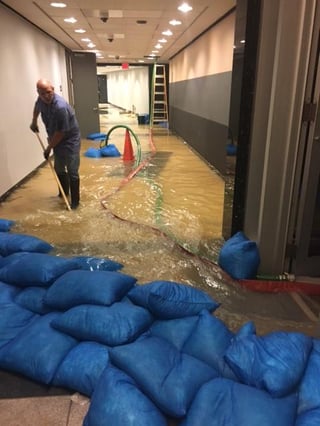 pictured: David Nicholson at the City of Houston Public Works (611 Walker St)
Thirty-two of our TDPartners turned their focus to our customers. These brave people remained downtown for five consecutive days, to keep open many facilities considered crucial to the relief efforts and emergency response. Those buildings included the 911 Call Center, Police Command Center, and the George R. Brown Convention Center, the temporary home of 10,000 storm refugees. Although our TDPartners were unable to travel home for days, they stayed safe in the convention center and in downtown hotel rooms. In their hearts, the purpose was too great; outside, the roads were too perilous to navigate.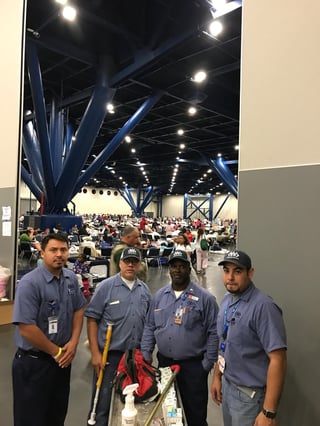 pictured (l-r): Luis Rivas, Humberto Urdiales, Laster Tyler, and Stephen Benavides at the George R. Brown Convention Center
The storm's devastation sprung the entire company into action.
Immediately, TDPartners in Houston began reaching out to their teams and co-workers. Social media, email, and phone calls were critical, and all were accounted for within the first 48 hours.
Leadership across the organization headed relief efforts to determine temporary housing and gather donated supplies from the other Texas locations. Families with extra rooms or trailers began offering beds and shelter. Within a couple days, offices like Dallas and Austin were sending pallets full of first aid supplies, clothing, baby supplies, drinking water, generators, and more. This past weekend, a small "shop" was set up in our Houston office for TDPartners to pick up necessary supplies. Another shipment (or two) is planned. Whatever it takes.
On August 30 (the Wednesday after the storm), our truck-based service team began assisting customers where it was safe to venture. Technicians from other offices were deployed to help as well.
TDPartners who could were encouraged to donate cash or paid personal time (PPT) to our internal relief fund, TDCares. The entire workforce in Houston was paid for the week, but as repairs begin, the time off and cash will be used. Our Houston TDPartners who were not deeply affected by the storm have been helping others with clean up, offering temporary housing, assisting with rescue operations, volunteering in the community, and assisting customers with their facilities.
With hospitals, schools, major corporations, and mission critical buildings in TD's Houston customer base, we are on a mission to get our community and the local economy thriving again. Our list of volunteers from across all offices grows daily.
The outpouring of generosity has drawn TDIndustries closer. Our Partners have banded together as an extended family, helping our Houston family members in a time of need. There's a long road ahead for many as the recovery and rebuilding efforts begin, but no one will do it alone at TDIndustries.
---
Want to help? Anyone can donate funds to our TDCares program to assist our TDPartners rebuild. Call

972-888-9318

for more information.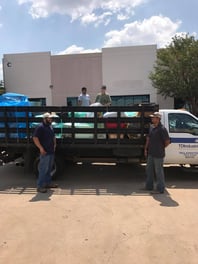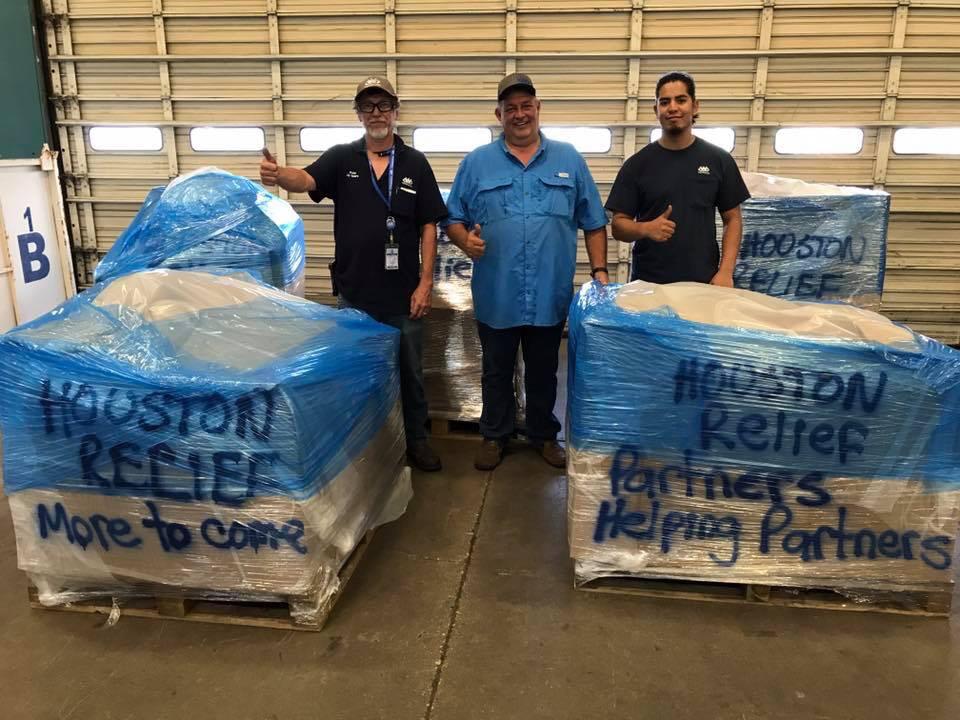 (left) Austin TDPartners prepare their relief shipment; (right) Dallas TDPartners in the shop with their relief supplies
---
While there are countless TDPartners who displayed heroism and bravery through relief efforts during Hurricane Harvey, we would like to acknowledge the 32 TDPartners who served their sites without going home for five days:
George R. Brown Convention Center (Houston First Corporation)
Henry Gilbert
Tom Rourke
Pete Reyes
John Bonner
Mike Velasquez
Laster Tyler
Luis Rivas
Len Masengale
Josh Thibodeaux
Stephen Benavides
TJ Shiflet
Houston Community College
Daniel Faldyn
Mike Giacona
City of Houston Public Works, 911 Call Center, Police Command, and Courthouse
John McKenzie
David Nicholson
Calvin Broussard
Sonny Holub
Joe Hernandez
Roland Reyes
Obeah Delaney
James Williams
Richard Shults
Raymond Patton
Destre London
Roberto Ramirez
Edward Ramos
Jason Tealer
Steven Cordova
Rusty Palmer
Denise Boyle
Hobby Center Theater
Ray Deal
Keith Thomas
###