Commercial HVAC Services
TD offers comprehensive commercial HVAC service for mechanical equipment of all types and manufacturers:
Chillers
Air Handling Units
Rooftop Units
CRAC Units
Cooling Towers
Water Treatment
Fans, Motors and Pumps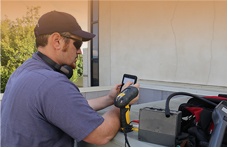 Technology that Works
Our HVAC technicians leverage specialized leak-detection tools, infrared imaging, vibration analysis and Sound Technology to best serve your system with minimal disruption and downtimes. TD is the only contractor in Texas licensed to use the patented, cutting-edge Sound Technology diagnostic tool. Our technicians can identify failing equipment based on the feedback to sensors—better than traditional visual inspection. Know that partnering with TD means the highest quality of service for your mechanical system.
24/7/365
Call us at 1-800-864-7717 to schedule an HVAC service call.