Dallas, Texas – TDIndustries has been honored with the Pyramid Award in the Mechanical, over $10 million category for its One Frost project in San Antonio. Associated Builders and Contractors (ABC) honored 98 projects collectively worth $2.4 billion at the 27th annual Excellence in Construction® Awards in Fort Lauderdale, Florida.
"This was a one-of-a-kind project," says Wesley Baker, Vice President of San Antonio Construction. "The complexity, pace, and design of One Frost required a large and very focused team to complete. Good relationships among our Partners and with other subcontractors had a substantial impact on the success of the project."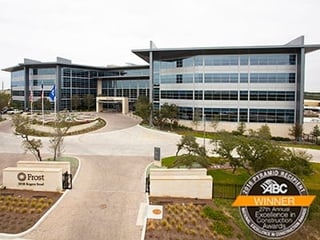 The One Frost corporate campus was a 28-month project that included 434,270 sf of Class A Commercial and a 546,656 sf garage. Located on a 16.7-acre site in the Westover Hills area of the city, the facility incorporates an ecofriendly design and conservation measures, while integrating state-of-the-art building controls systems to increase efficiency throughout the campus. Throughout the course of construction, TD prefabricated and installed more than 550,000 lbs of sheet metal; 11,000 lf of chilled water piping; and more than 35,000 lf of plumbing for domestic cold water, hot water return, sanitary waste, storm water and reclaimed water. More than 430 plumbing fixtures were installed for the lavatories, water heater, booster pumps, and kitchen equipment, among others. The fully integrated controls installation included critical systems like HVAC, lighting, fire/life, irrigation and elevators.

"I am proud to honor the commitment to world-class safety, superior craftsmanship and cutting-edge innovation that these Associated Builders and Contractors members and their employees brought to the jobsite every day," said 2017 ABC National Chair Chuck Goodrich. "The scope of this year's Excellence in Construction award-winning projects, from sports arenas and hospitals to hotels and universities, proves that if it can be built, the merit shop can build it, on time and on budget."

The Excellence in Construction awards program is the industry's leading competition that honors both general and specialty contractors for innovative and high-quality merit shop construction projects. The award honors all construction team members, including the contractor, owner, architect and engineer. The winning projects, selected from entries submitted from across the nation, were judged on complexity, attractiveness, unique challenges overcome, completion time, workmanship, innovation, safety and cost.

A full list of Excellence in Construction Award winners is available on ABC's website.
###
CONTACT: Holly Preston, 972-888-6849
About ABC
Associated Builders and Contractors (ABC) is a national construction industry trade association representing nearly 21,000 chapter members. Founded on the merit shop philosophy, ABC and its 70 chapters help members develop people, win work and deliver that work safely, ethically, profitably and for the betterment of the communities in which ABC and its members work. ABC's membership represents all specialties within the U.S. construction industry and is comprised primarily of firms that perform work in the industrial and commercial sectors.