TDPartners volunteered with the Arizona Builders Alliance (ABA) and peer companies to organize a back to school community outreach event. The idea came from an ABA member who, as a foster parent, recognizes the financial implications that school supplies shopping can have on a family with many kids.
RISE Family Services benefited from the volunteer event, and they were very grateful to receive the assistance. RISE families, who have between one and six foster children per family, worked alongside ABA volunteers in organizing supplies.
TD's warehouse, conference room, training center, and office were filled with supplies and volunteers. Supplies were stored onsite at our Phoenix Metro Area office where the counting, sorting, assembling, and delivery preparations were done. We were more than happy to supply the location of the event, the box truck for delivery, and driver who delivered several pallets worth of donations to the families.
It's estimated that more than $10,000 worth of school supplies and backpacks were delivered to RISE families.
"We have been volunteering with ABA's Christmas toy drive and backpack drive for years, each year increasing my personal involvement and TD's as well," said Chris Brown, TD Vice President and Vice Chair of the ABA Community Service Board.
Chris added, "Kudos to TDPartners Bobby and Maurice for helping with the logistics of this event and others. Without them, we literally could not deliver supplies to the children. As we plan future opportunities with the ABA Community Service committee, I see the impact it has, and it's very rewarding."
Many thanks to Chris Brown for connecting us with this wonderful event. Additional thanks to TDPartners, Bobby Wright, Driver; Maurice Walton, Driver; Antonio Najera, Driver; and Araceli Solorio, Administrative Assistant, who gave their time and talent in support of the event.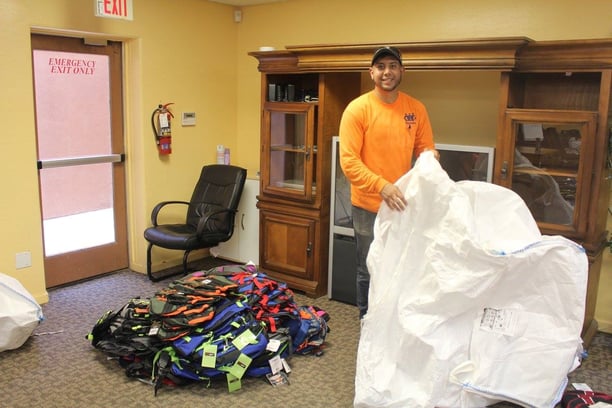 photo: Arizona Builders Alliance Facebook Page
Head over to the ABA's Facebook Page to see more photos of the event.
###
---
Related:
Watch a "Great Place to Work" video about TD, created by TDPartner Joel Dutton.
Helping build safe, productive environments for schools, universities, and research labs.
John Bonner is awarded for his demonstration of all facets of the "Five Set Standard" by HFC.