Entertainment Venues & Public Assembly
When it comes to meeting the demands and quality of entertainment, hospitality and sports venues, TDIndustries is unrivaled in this market. Cutting edge design demands innovative processes, manpower, resources and technology—all qualities that we bring to every project. We've been redefining mechanical subcontracting for this market for decades. Find out what the clients behind the Dallas Cowboys AT&T Stadium and other entertainment venues already know.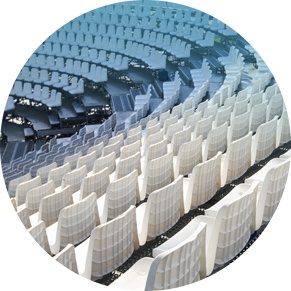 Sports Stadiums
TD builds value and technological advancements that last for years to come. From prefabrication and value-added constructability engineering to ongoing maintenance and service we are ready to partner with you for the long haul. We will work with the individual needs of your project ranging from occupancy comfort to building controls that add efficiency in operations, or any combination in between.
Casinos
Casinos offer a variety of entertainment and visitor attractions. They have lodging, food services, and large convention spaces. The heating, cooling, plumbing and commercial refrigeration needs of these vast buildings require innovation to run efficiently and keep costs low. Our Partners build and service multi-faceted facilities like Harrah's Ak-Chin Hotel and Casino in Maricopa, AZ.
Hotels
If your hotel is already operating, we can enhance the day-to-day processes; increase guest and staff safety and comfort. Licensed, skilled technicians can respond 24/7 to a variety of emergency or planned maintenance issues, including inspecting electrical or lighting equipment, regular upkeep of restaurant equipment, or even performing an indoor air quality study. They will work professionally, discreetly and safely to accommodate your business—even during off hours or at night.
Public and Religious Assembly
TD brings unrivaled experience and innovation that delivers cost-effective, high-quality installations for these unique spaces. From community theaters to places of worship, we understand the special functions and audiences of these buildings, and bring that mindful perspective to the project. HVAC installations and plumbing systems should serve to those unique audiences. Our staff engineers will evaluate the constructability of a design to ensure that ducting or piping is functional and aesthetically pleasing.